Insights from 500 Board Reviews
Over the past 20 years, I have reviewed and helped improve more than 200 boards and overseen another 300 board reviews too. Those reviews have given me deep insights into good boards, the bad and the ugly too. My learnings also come from chairing boards, including Ansvar Insurance and First Samuel and sitting on other boards, including Mission Australia and Stillwell Motor Group.
I have used Board Benchmarking's WhatWhoHowDo framework to structure my thinking in relation to what I have learned. Here is a summary of those learnings.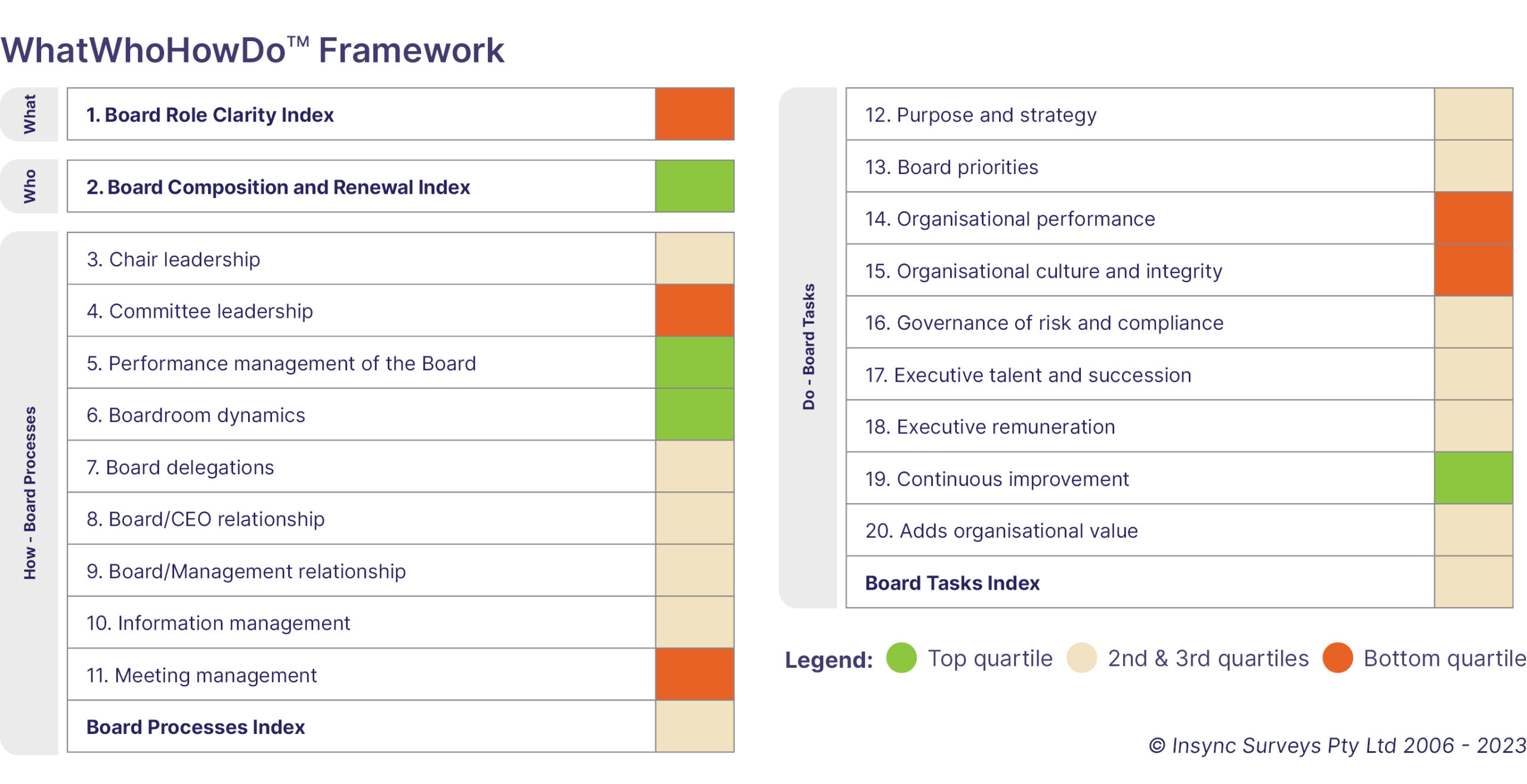 What – Board role clarity
Many directors don't fully understand their role and how it differs from the executive team. They aren't sufficiently strategic and dig too deeply into operational issues. This needs to be managed well by the Chair and the CEO
Who – Board composition and renewal
Board diversity and renewal are important foundation stones for a high-performing board. Most boards could improve in one or both areas
We should all know that diversity is critical to high performance. But most directors don't take enough time and effort to build relationships with those 'different' directors. It takes much longer to build relationships, trust and rapport with directors who are different from us
Many boards still don't have enough directors with the appropriate skills and experience in the core business of the organisation. This compromises the board's ability to govern rigorously and add value
How – Board processes (or what we also often call the hygiene)
If the board, and each director, were more proactive in supporting and developing their Chair, the board and organisation would benefit. If the board has an ineffective Chair, it is better for everyone if the Chair is replaced. That is often easier said than done but is important
Committees are often siloed, and their work is often not sufficiently aligned with the board's priorities and supportive of the board's work
Robust relationships and dynamics are essential for a high-performing and resilient board. At least 25% of boards have dysfunctional relationships within the board, with their CEO and/or executive team. Not enough effort is made to deal with the dysfunction
The board's time is precious so use it wisely. Calibrate the meeting at the start to ensure extra focus on the most important issues. Limit presentations from management and maximise discussion time
Not enough boards run a differentiated board agenda, and instead just go through the motions doing the same old thing
Many boards and executives could work together to improve the format, relevance, insightfulness and forward-looking nature of board papers. This helps the development of executives and the oversight of the board
Boards should set a high bar for their performance and effectiveness. This helps set the high tone from the top which is so important
Do – Board tasks
Most boards don't think deeply enough about the legacy they want to leave, the difference they can/will make and the value they will add
Boards are likely to add more value if they are more aligned around their small number of priorities and pivot towards those outcomes. Directors with too many differing priorities erode the board and their organisation's focus and efforts
Most boards don't involve themselves early enough in the development of strategy, with many simply waiting for the strategy to be presented for approval by the CEO. Boards should engage in early discussions with management and provide appropriate guidance
A greater focus is still required by many boards on organisation culture and integrity. This includes a more strategic approach to stakeholder management
Governance of risk management and compliance is taken seriously by most boards, but many could be better at understanding and overseeing the management of emerging risks, including IT and cyber risk
Many boards could set a higher bar for their organisation's performance. They could do more to encourage a strong culture of organisational performance, including ensuring appropriate action is taken when performance measures are not met
Most boards could take a more active role and a longer-term approach to their oversight of executive talent development and succession planning
Catalyst for change
Many boards have developed a good rhythm of measuring and improving their performance and effectiveness. Those boards have embedded continuous improvement in their DNA and that permeates down to the executive team and the whole organisation.
But unfortunately, most boards aren't like that – yet.
My other big learning is that boards that have performed poorly and been ineffective in the past can significantly improve their performance and effectiveness within, say, the next twelve months. Almost always a catalyst for change is required.
The catalyst for improvement can often be one or two directors but they often can't achieve much by themselves. Even a new Chair can often have limited power to make the changes required.
One catalyst that almost always drives change is a benchmarked Board Effectiveness Report that very clearly and simply shows a board:
How ineffective it is overall compared to boards of similar organisations and/or
How ineffective it is in particular areas of a board's effectiveness.
Does your board need a catalyst to change?